In Loving Memory Of Bradley Knight
IN LOVING MEMORY OF
MCW MIDDLEWEIGHT CHAMPION
BRADLEY KEITH PILLOW
"AKA"
BRADLEY KNIGHT
AUG 15,1986 - APRIL 27,2005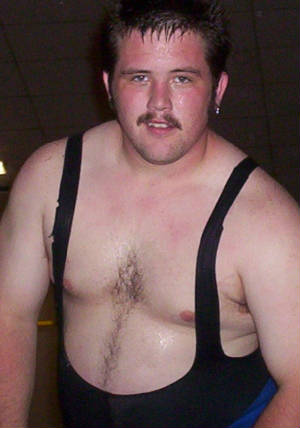 Bradley Keith Pillow, 18, of Paragould died April 27, 2005 at Arkansas Methodist Medical Center after being in a car accident.
Pillow was born Aug. 15, 1986, in Havlock, N.C. He was an environmental supervisor and was a member of the New Liberty Baptist Church in Blytheville. Pillow was a 2004 graduate of Paragould High School. He was a defense tackle on the PHS football team, held the state record for squats and dead weight lifts, was a member of the Paragould golf team, an MCW Middle Weight Champion and a member of the North American Hunting Club.
He is survived by his wife, Janel Meyer Pillow of Paragould; daughter, Anna Kaye Pillow of Paragould; father, Robert Wayne Pillow of Paragould; mother Kimberly Ann Wallace of Blytheville; sister, Katey Barham of Pocahontas; brother, Bryan Pillow of Blytheville; grandparents, Buddie and Billie Wallace of Blytheville, Jerry and Shirley Swain of Marmaduke, Jeff Pillow of Pargould, and Harry and Ruth Meyer of Connellsville, Pa.; great grandparents, Mr. and Mrs. David Pillow of Paragould, Lorene Baldwin of Paragould, and Virginia Mae Wallace of Blytheville; father- and mother-in-law, Jay and Sharon Meyer of Blytheville; brothers-in-law, Jayson Meyer and Terry Lamb, both of Blytheville; sister-in-law, Julia Lamb of Blytheville.
He was preceded in death by great grandparents, Elmer and Pauline Latham, and Charlice Pillow.
Visitation will be from 6-9 p.m. today at Wilson Funeral Home Chapel in Blytheville. Funeral services will be at 2 p.m. Saturday at Wilson Funeral Home Chapel with Brother Bob Kary officiating. Burial will follow at Memory Gardens in Blythevile. In lieu of flowers, send memorials to the New Liberty Baptist Church Family Life Center in Bradley Keith Pillow's name.